Although I enjoy getting together with fellow artists to plein air paint, my truest companions are my dogs Angus and Louie. They're always ready to go, never complain if I take too long, and are filled with joy at the prospect of being outside for the day. We added Lou to our "pack" last August - he's a mastiff/lab cross, 105 pounds at 8 months old and still growing. My first few attempts at painting with the new puppy were predictably chaotic (see photo above) and I've lost more rolls of paper towels to his shredding than I care to admit. But as a woman painting often on my own, I know that my dogs provide good protection. Angus stands and growls if anyone comes near, and Louie's bark would deter just about anything. Both dogs have backpacks, and they carry some of my gear....along with dog biscuits and water. It's gotten to the point where I can't touch my backpack without setting off a flurry of dog joy as they dance around the door, waiting to go and paint.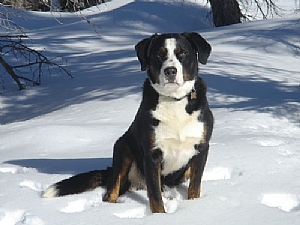 Angus on a painting trip last winter.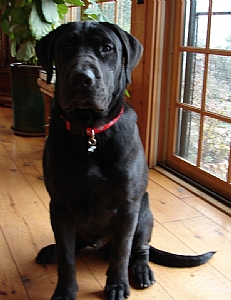 Louie at 6 months
Update to last posting: I've decided to concentrate my web efforts to 3 areas: updating my web site, sending email newsletters, and blogging more frequently. Facebook and all the rest will just have to wait for now. Thanks to all of you who commented last time.