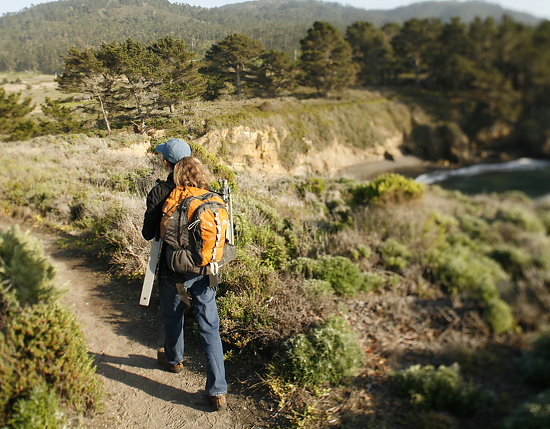 I must get a half dozen art supply catalogs each week, all offering "the best" equipment for plein air painting and myriad gadgets claiming to make the process of painting easier. From Soltek to Sourcetek, from linen to Liquin, how the heck do you know what's worth buying?
I've been plein airing for about 12 years now, and it seems like I've tried just about everything on the market. I've been teaching since 2005, giving me a chance to see hundreds of plein air set-ups that students bring to my workshops. Really good equipment that survives the rigors of plein air painting is available, but so is an awful lot of junk. In answer to several recent inquiries, here's what I recommend for painting on location.
My main credo is Less Is More! Getting rid of the excess junk makes your load lighter and you won't spend as much time rooting through your pack looking for things. Buy the best quality you can possible afford, look for sales, and don't be a sucker for unnecessary gadgets!
For my easel, I use Open Box M. It's sturdy, easy to set up, and takes the abuse I dole out on a regular basis. I have two Open Box M easels: the main one I use is the 12x16 size - the larger palette gives me more room for mixing paint. This easel is relatively heavy, so I only use it when I'm staying close to my car to paint. For longer treks, I carry the smaller and lighter 11x14 box.
I use a heavy Bogen tripod - it's very sturdy and not prone to blowing over on a windy day. I'm in the market for something a little lighter, but I have found that going too lightweight or cheap just isn't worth it and can lead to a wobbly easel that will drive you batty after fighting with it all day!
Which brush to use is more a choice of personal taste, but I strongly suggest honing down the number you take in the field. I use about 3 or 4 brushes, brights and rounds. Keep your brushes in good condition and learn just how many different marks you can make with just one brush.
Small tubes of paint are lighter and more convenient, but they're also a lot more expensive. I buy the big tubes whenever I can, use them in the studio until about half the paint is gone, then transfer them to my plein air gear. Saves money and weight!
I had always been anti-umbrella...I've just seen too many easels pick up and blow away in the slightest breeze when an umbrella is attached. But then I found the aptly-named BestBrella - it has vents to let the breezes flow through, screws together in a few seconds, adjusts in several different directions to block any angle of the sun. Now I'm a believer! I use the umbrella for shading my canvas...and for shading me in the hot California sun!
My solvent goes in a container that hangs from my easel, similar to the Holbein brushwasher. After my overly enthusiastic dogs wagged their tails and tipped over my solvent can, spilling all my turp after I had hiked a few miles into my painting spot, I decided it was prudent to carry a small metal fuel bottle (found in most camping stores) with extra turp in it.
My pack is a Kelty Rewding 3100---I've found that a true backpacking pack (as opposed to an art pack) works best because the extra padding and straps make hiking to a painting destination much more comfortable.
I paint on panels, linen mounted on Gatorfoam, made by Windriver Arts - they're lightweight and easy to pack. For storing wet paintings, I use RayMar carriers. Also lightweight, inexpensive, and nearly indestructible.
Those are the main elements of my equipment; it goes without saying that a hat, sunscreen, cell phone, extra jacket and water are all also essential to your comfort and safety while painting. I also carry a sketchbook, Sharpie marker, paper towels, trash bags, bug spray, and of course, dog biscuits for my canine painting partners.
And speaking of those canine companions, look for my blog post next month on training your dog to go plein airing with you!