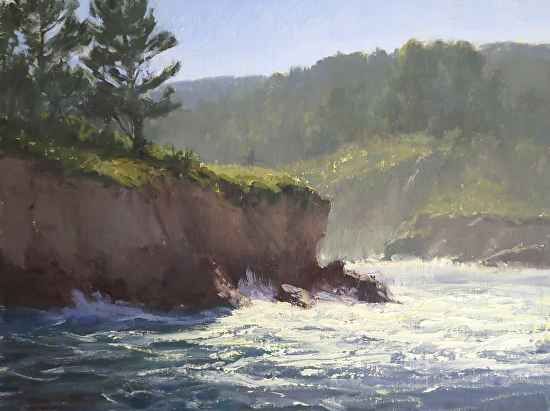 PAINTING OF THE WEEK: "Study for 'The Incoming Tide'" 12x16 oil on linen
PLEIN AIR PAINTERS OF AMERICA IN NEW YORK CITY: PAPA will show for the first time in NYC at the historic Salmagundi Club, 47 Fifth Ave, New York, NY. "Why Outdoors" will hang April 22- May 9 with an opening reception on April 25 and events throughout the weekend. I'll have 3 paintings in the show including "Study for 'The Incoming Tide'" Click here for more info.

SAVVY PAINTER PODCAST: I enjoyed speaking with Antrese Wood for her new website, The Savvy Painter. We discuss my career and the ups and downs of the business of art. Click here to listen to the interview.
2014 WORKSHOP SCHEDULE IS HERE! Click here for classes in California and Colorado. Thank you for the great response! My 2014 workshops in Murphys, CA and in Colorado are FULL.. Contact me at kathleen@kathleendunphy.com to add your name to the waiting list.

PLEIN AIR PAINTERS OF AMERICA: I'm honored to announce that I have been juried into the Plein Air Painters of America as a Signature Member.
ARTISTS HELPING ARTISTS: Click here to listen to my 90-minute interview on Blogtalk Radio with Leslie Saeta of Artists Helping Artists.
BOOK AND SHOW CATALOGS AVAILABLE ONLINE: Click here to see the collection of books that feature my work. Signed copies available for purchase through Paypal.
GET THE LATEST NEWS & BE THE FIRST TO SEE NEW WORK: It's all in my email newsletter! I send out about 10 newsletters per year with information on shows, workshops, new paintings, and events. Click here to sign up or fill in the form below!