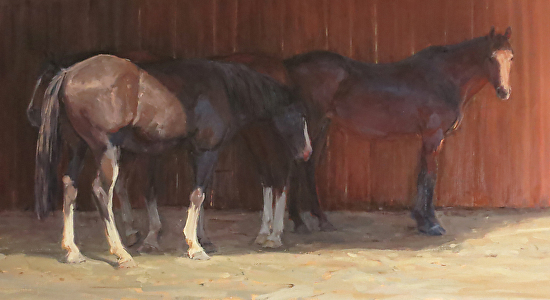 PAINTING OF THE WEEK: "Rode Hard" 20x30" oil on linen
CALIFORNIA ART CLUB GOLD MEDAL SHOW: I'm honored to have two of my paintings juried into this prestigious exhibit, including "Rode Hard". The show runs from March 28- April 19 at the USC Fisher Museum of Art. For more information, click here.
PLEIN AIR PAINTERS OF AMERICA: LEGACY OF THE LAND: This show comprises plein air and studio paintings by PAPA members in addition to a display of more than 50 paintings by early California Impressionists. The exhibit kicks off March 21 with a gala dinner and lecture by Jean Stern, Director of the Irvine Museum. The show runs through May 3rd. For more info, click here.
SAVVY PAINTER PODCAST: I enjoyed speaking with Antrese Wood for her new website, The Savvy Painter. We discuss my career and the ups and downs of the business of art. Click here to listen to the interview.
2015 WORKSHOP SCHEDULE: Click here for 2015 classes in California including 3-day workshops in the spring and the return of my No Whiners! advanced class next fall. Thank you for the great response! All of my 2015 workshops have sold out, but I'm taking names for the waiting list. Email kathleen@kathleendunphy.com to add your name to the list.

PLEIN AIR PAINTERS OF AMERICA: I'm honored to announce that I have been juried into the Plein Air Painters of America as a Signature Member.
ARTISTS HELPING ARTISTS: Click here to listen to my 90-minute interview on Blogtalk Radio with Leslie Saeta of Artists Helping Artists.
GET THE LATEST NEWS & BE THE FIRST TO SEE NEW WORK: It's all in my email newsletter! I send out about 10 newsletters per year with information on shows, workshops, new paintings, and events. Click here to sign up or fill in the form below!